Regular price
Sale price
$63.00 USD
Unit price
per
Sale
Sold out
Description
Our 100% pure beeswax votives, like other traditional votives, are made to become molten and fill their container. To achieve the best results, burn inside a holder which fits the candle snugly (we recommend these). Using the proper holder, you can expect our votives to burn for at least 12 hours, making them a great bang for your buck.
Features
Burn time: 12-15 hours (in a fitted holder)
100% pure, lightly filtered beeswax

Cotton wick - no lead or metal
Non-toxic, lead-free & hypoallergenic
Dimensions & Care
1 5/8" top diameter, 1 3/8" bottom diameter, 1 3/4" height 


All votives should be burned in a heat resistant container just wide enough to fit the votive and no larger. Votives are designed to develop a molten pool which fills the container. Using too wide a container will allow the wax to spread out and go unburned, radically shortening the overall burn time.


When a votive is towards the end of its life (~1/2" left) let it burn till it goes out. This will lengthen the overall burn time and reduce or eliminate unburned wax left in your holder. Burned in this fashion in a snug holder, our votives often leave nothing but the wick clip — it's why they're a favorite amongst our most loyal customers! 


If you do have remaining beeswax in your holder after a burn, it is best to heat the holder in an oven at roughly 160 degrees for a few minutes and then wipe clean with a paper towel. You can also try warming the wax with a hairdryer and wiping clean.
Share
View full details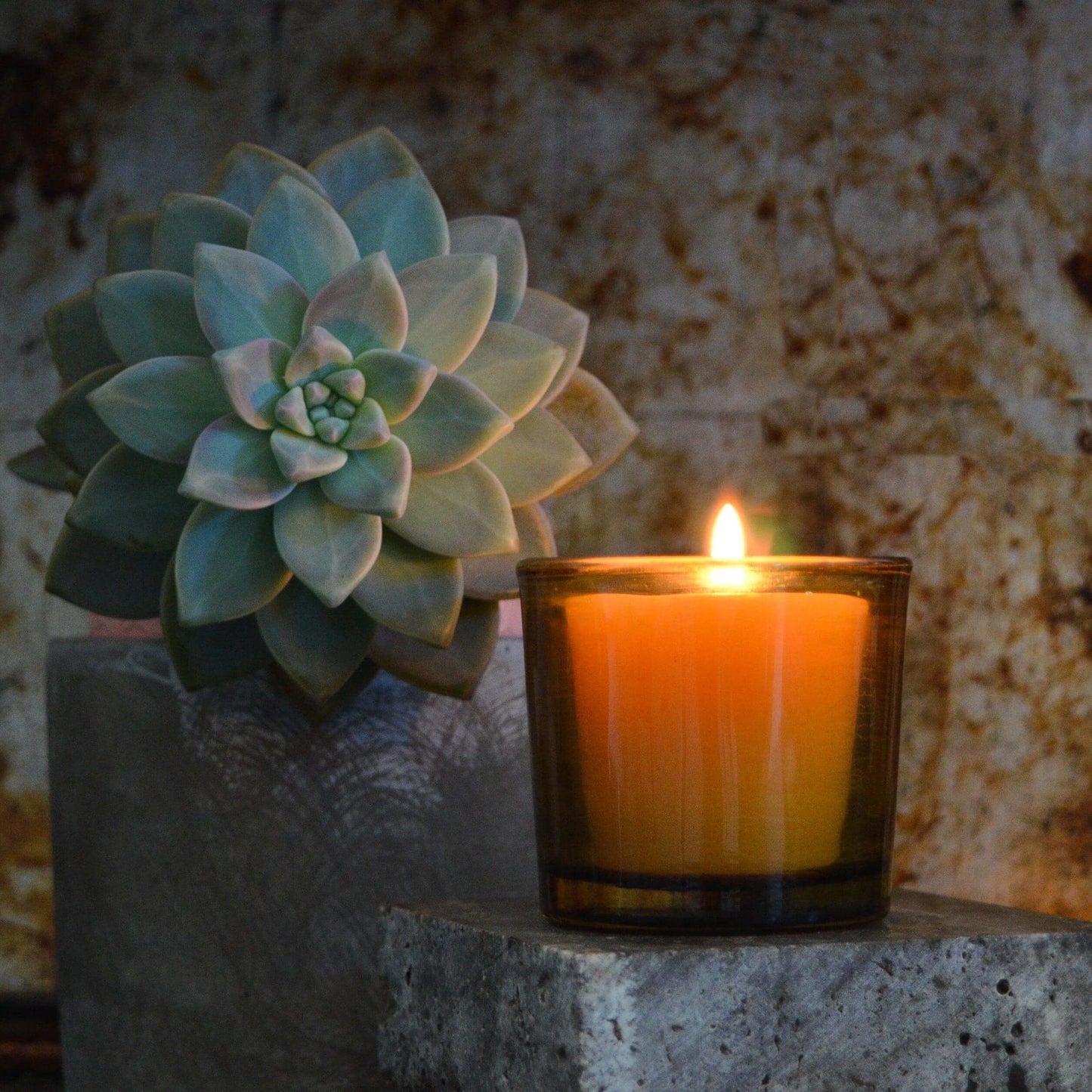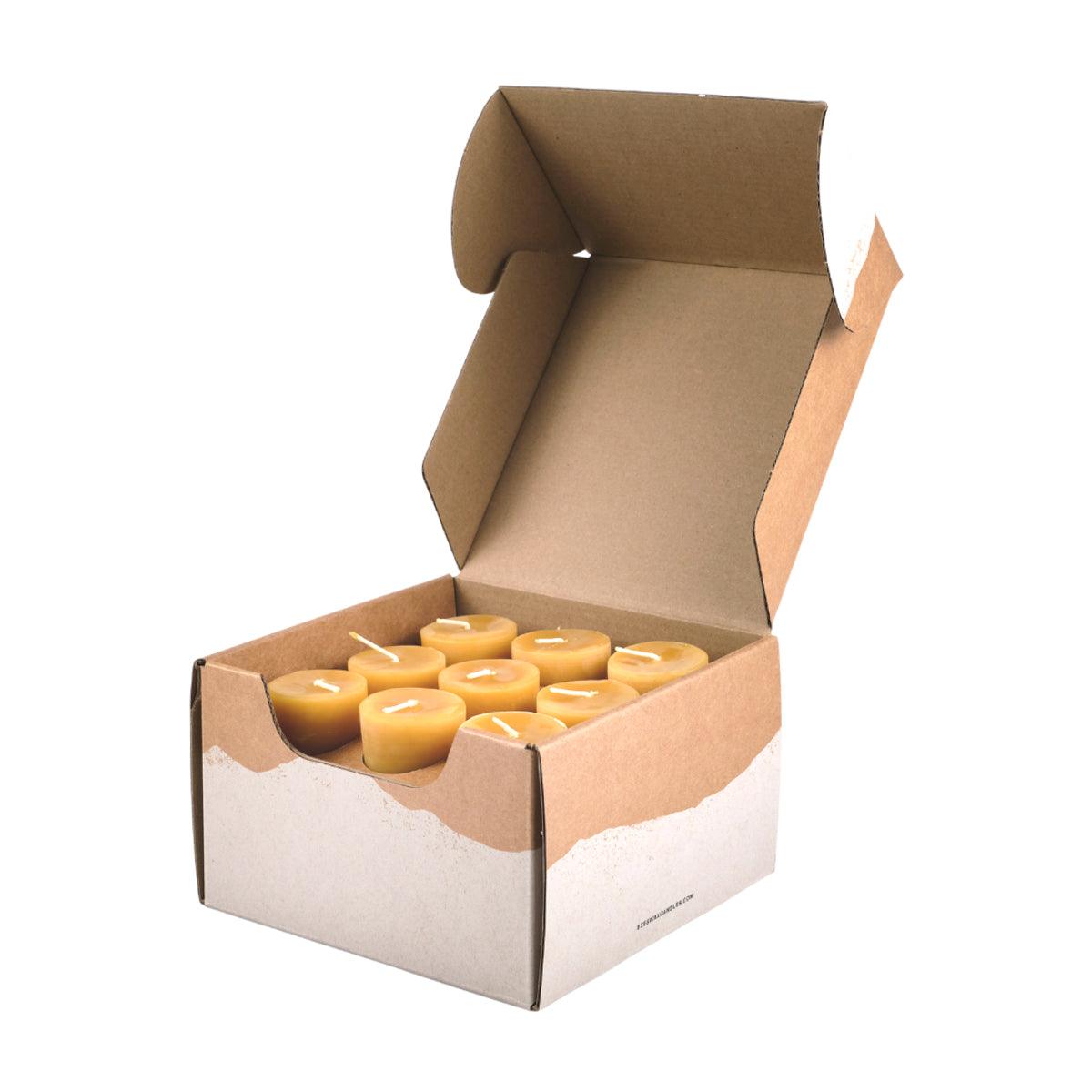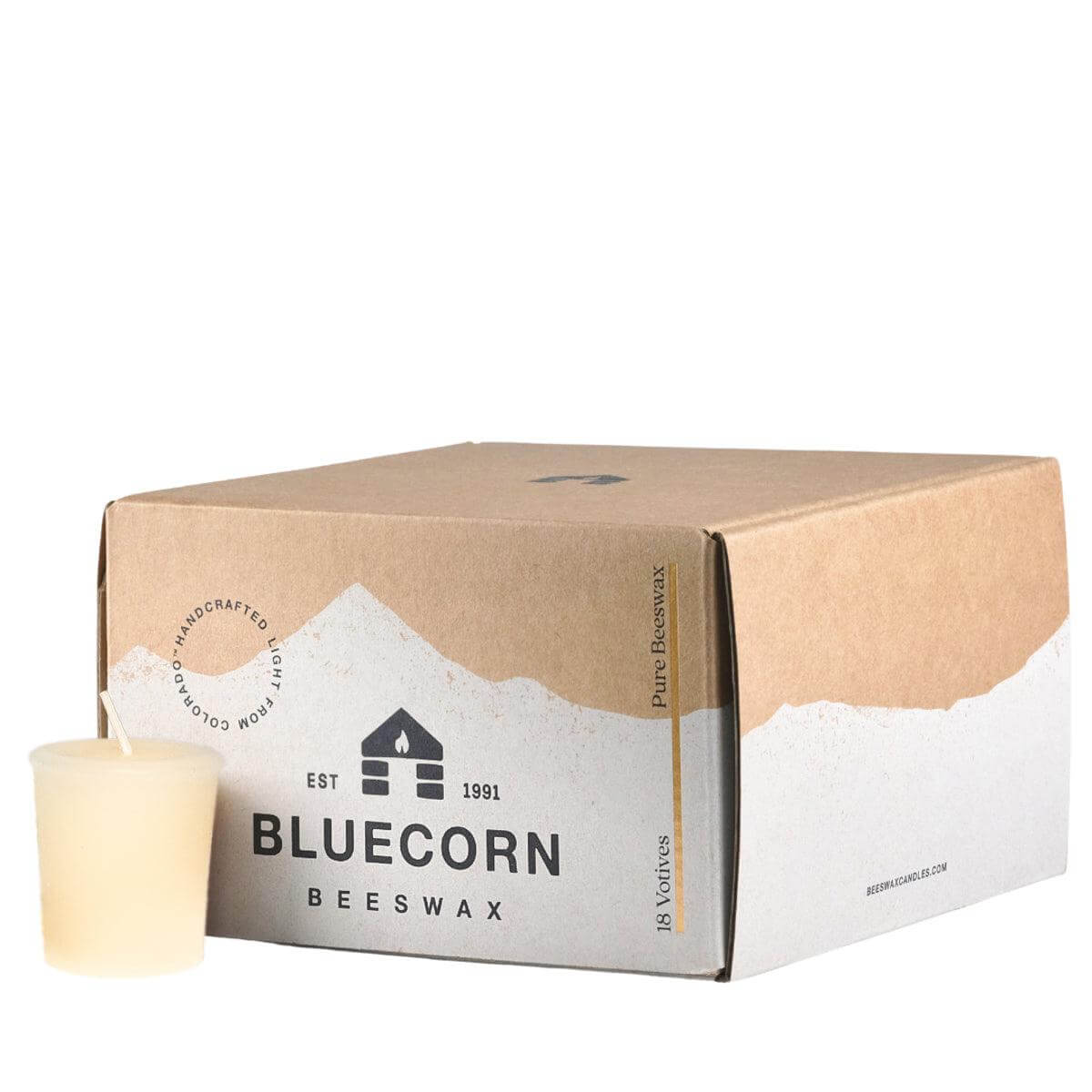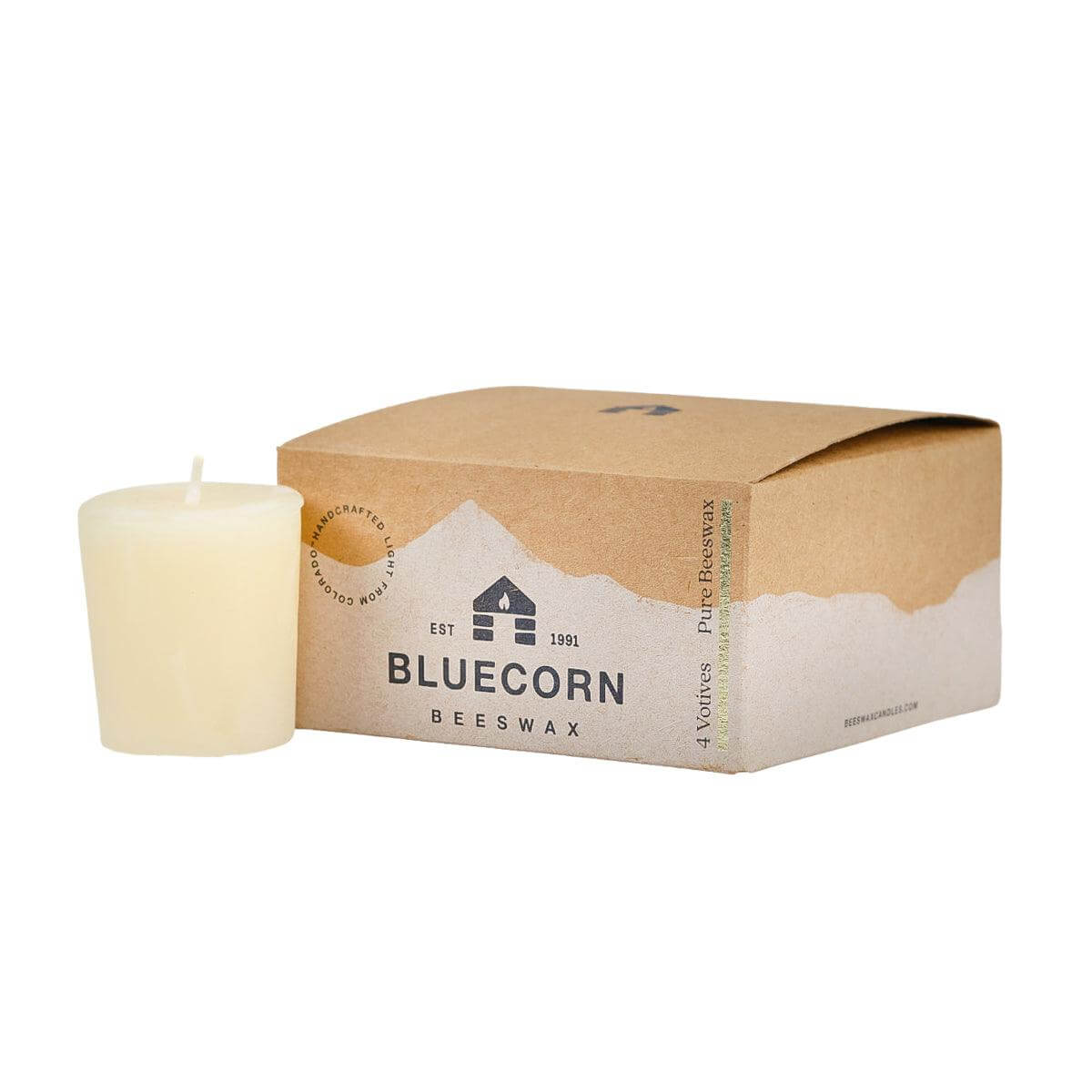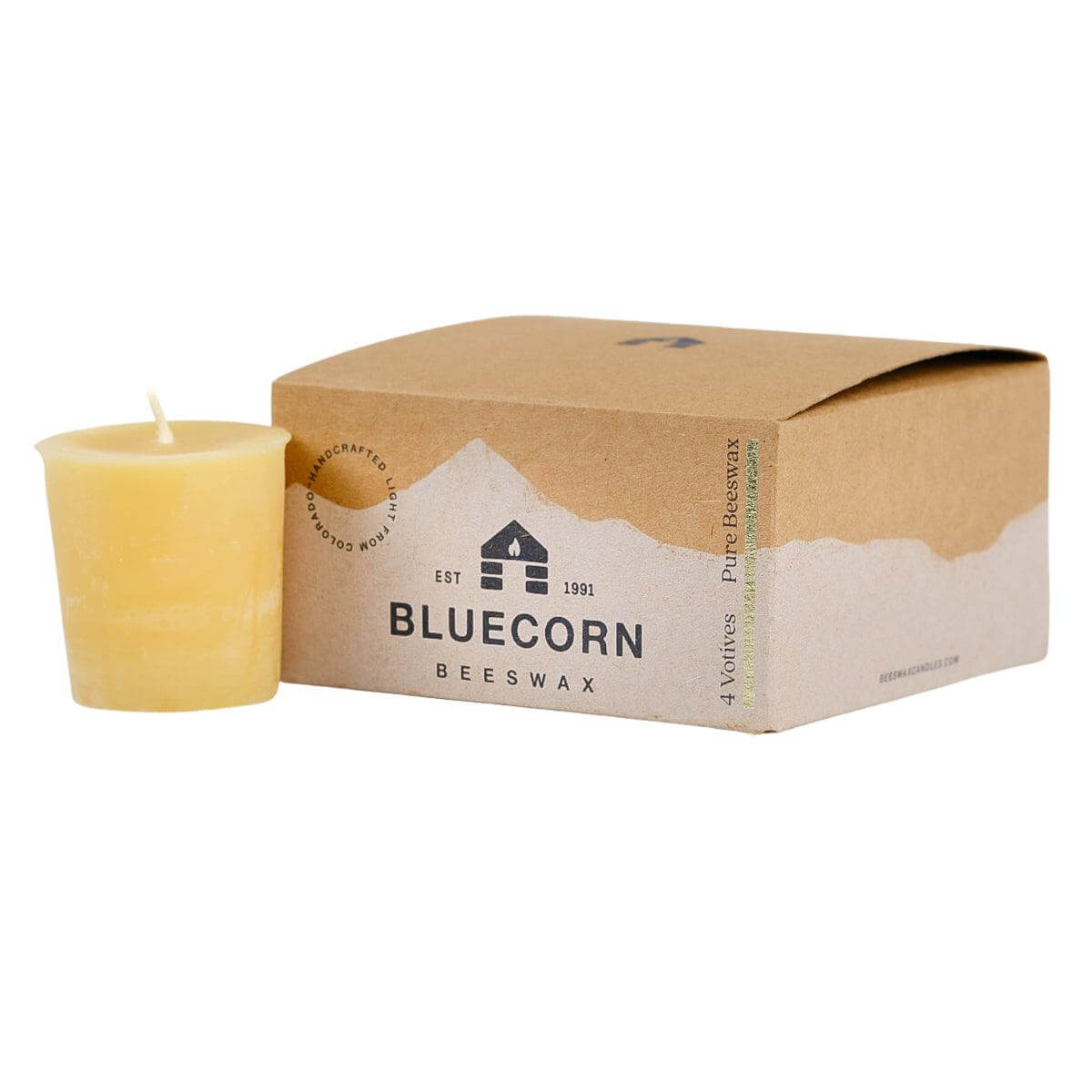 Lovely light but a tad spendy
The best
I use the tapers regularly and decided to try some votives. I use the raw/unbleached and they are all great. Bluecorn are the best candles I have ever used. Dense, well formed, heavy wicks , great burn time and of course the clean beeswax smell.
Very fragrant!
After burning for just a couple hours, my living is filled with a noticeable honey fragrance. Very happy with these!
Votive candles and celebration candles
I absolutely love BlueCorn candles and for years now I have been buying them for the smell of honey, color and the uniform burn of each candle. I adore the ceremony candles they are a favorite. Thank you having these beeswax candles available for people who love 100 percent beeswax candles. Oh yes , the pure beeswax votive candles are the best.
Always wonderful
I have loved my Bluecorn candles, especially the votives, off and on for a good 15 years. I simply love them. They burn fully and long if you follow the burning instructions. Also, the raw beeswax smell is intoxicating to me. It's not in my budget, but if it were, I'd burn Bluecorn every morning and evening for the rest of my days. I'm hooked!